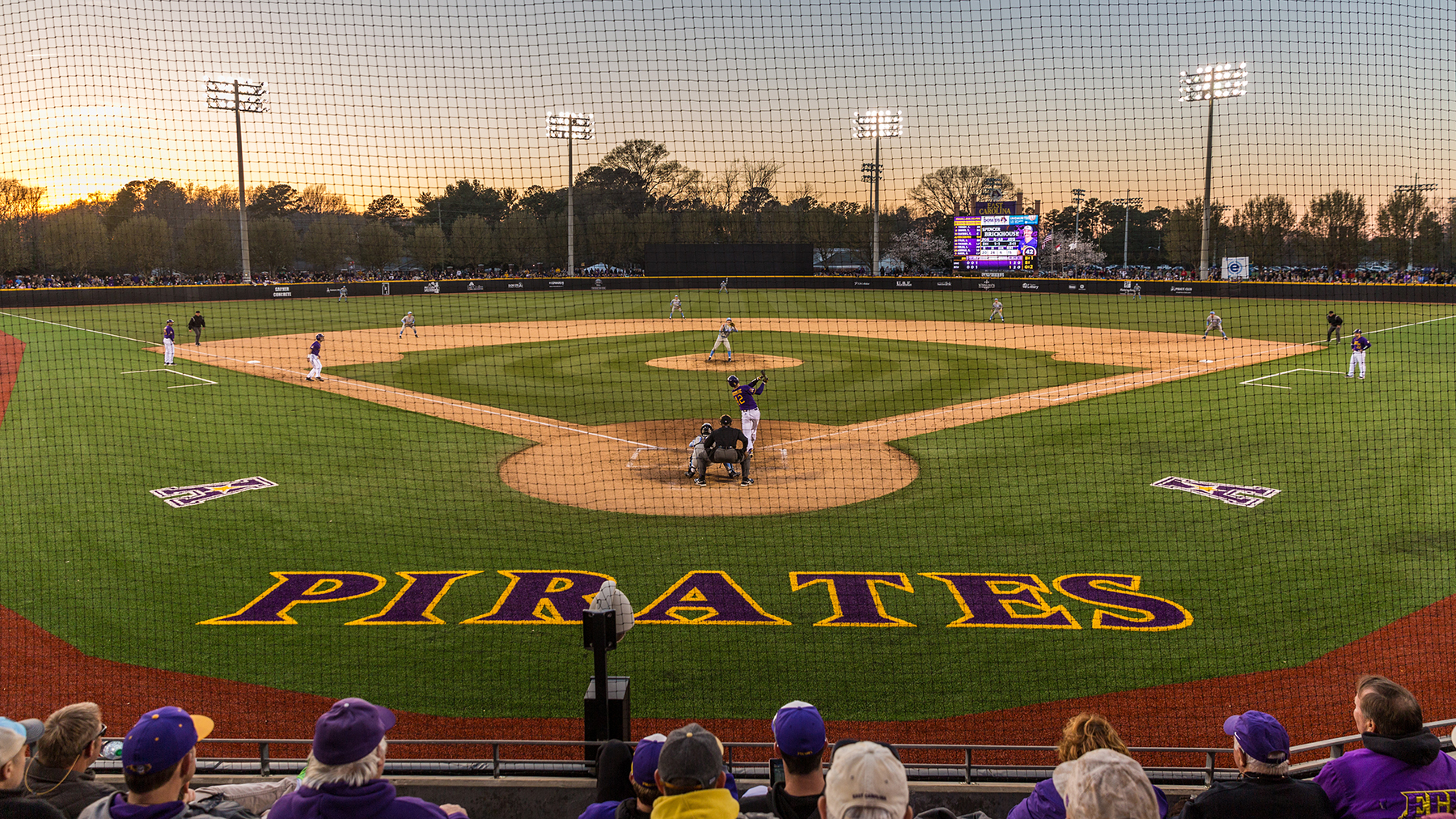 2020 Cliff Godwin Youth Camp Session 1

June 22, 2020 - June 26, 2020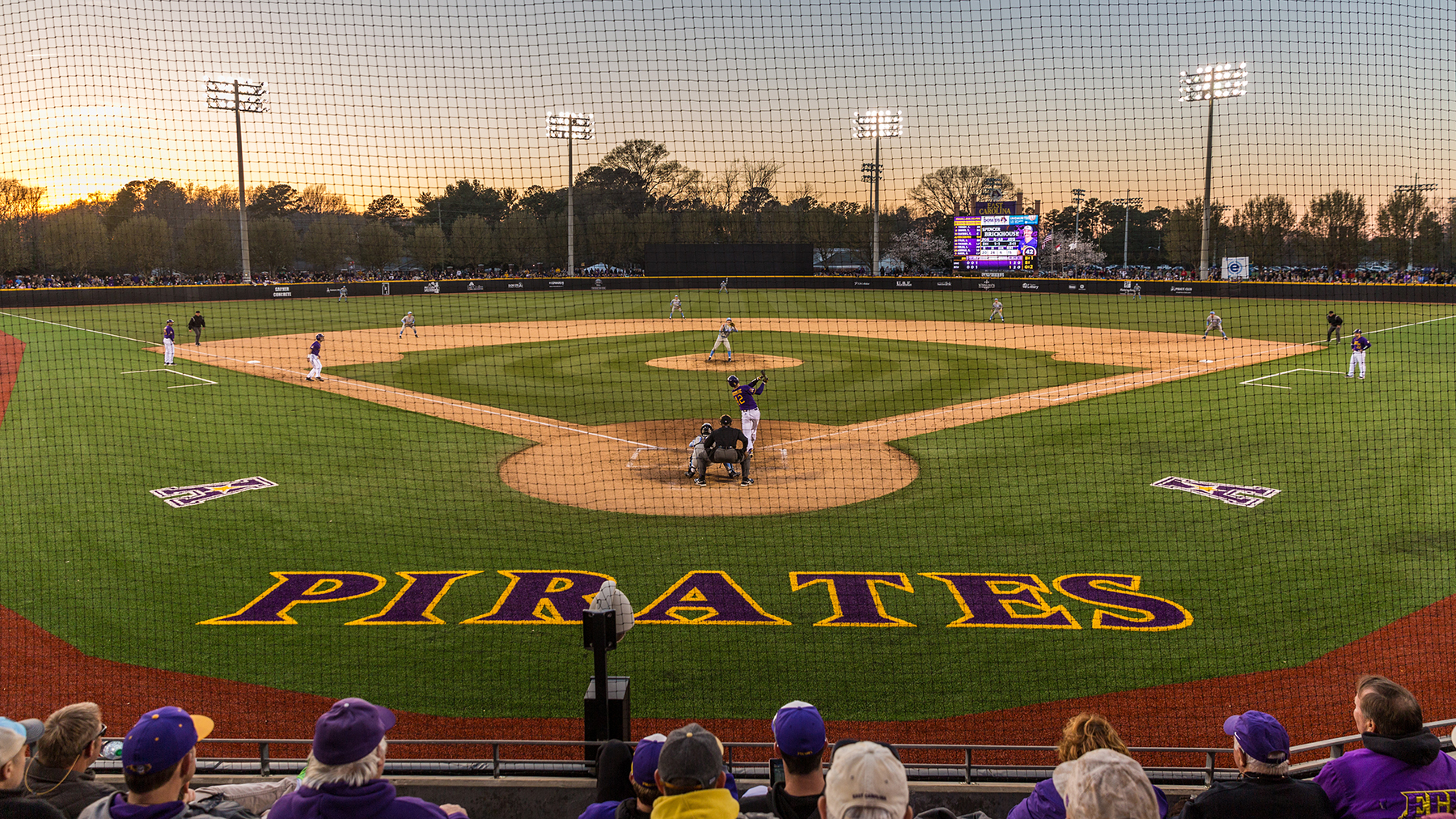 Cliff Godwin Youth Camp offers an opportunity to learn the game of baseball in a fun and positive atmosphere. Our staff will teach each player baseball fundamentals, drill work specifically designed to improve each camper's offensive and defensive skills while also playing in instructional games. We have assembled a knowledgeable staff to teach campers proper skills and techniques. Our instructors consist of ECU Coaches, current and former ECU players, along with outstanding high school coaches.
Times: 
Day 1 (Monday) Drop-Off/Sign-in will take place from 8-9am inside Gate 1 of Clark-LeClair Stadium.
Drop-Off/ Sign-In for all campers will be at 8:30am each day after Day 1 
PICK-UP/DROP-OFF WILL TAKE PLACE INSIDE OF GATE 1 EVERY DAY, CAMPERS MUST BE SIGNED IN/OUT BY AN APPROVED PARENT OR GUARDIAN.
Camp will run 9am-4pm Monday-Thursday, & 9am-12pm on Friday 
9am-12pm Skill instruction, drills, & coach pitch games 
12pm Pick-Up/Sign-Out for half-day campers 
12pm-1pm Lunch/Break for full day campers 
1pm-3:45pm Applied skills, camp skill games, & coach pitch games
3:45pm Daily Review 
4:00pm Pick-Up/Sign-Out for full day campers. All campers must be picked up no later than 4:30pm, please arrange transportation prior to arrival at camp. 
Special Events at Camp
Thursday- Full day campers will get to test their skill with our Baseball Olympics
Friday- ALL CAMPERS will get sliding instruction and practice on our official CG23 Youth Camp SLIP AND SLIDE
What to Bring
Each camper is encouraged to bring his or her own baseball equipment. Players should bring a glove, bat, cleats, running shoes or turf shoes, hat, helmet, and any other equipment they feel necessary to compete. Catchers must bring their own gear. Every camper in attendance will be given a camp T-shirt. We recommend bringing sunscreen during the summer. We also advise youth campers to wear proper baseball attire but it is not necessary to participate in camp. For Friday's slip and slide we recommend wearing your baseball attire for sliding but packing a change of clothes and a towel.
Who is Right for This Camp?
Our camps welcome all participants regardless of skill level. Registration is on a first come, first served basis as long as the registrant is within the specified range of ages.
Do I Need to Pack a Lunch? 
Half Day Campers will be released at 12pm every day. 
Full Day Campers will have a break from 12-1pm everyday to eat lunch. 
Option 1: You are more than welcome to pack your child a lunch, we do not recommend sending them to camp for a full day without food.
Option 2: We will offer a meal plan for camp that includes options for lunch any and all days of the week. 
Medical Staff
All camps held at ECU have medical staff present. ECU Athletic Training provides trainers for our each of our camp sessions. It is important to indicate any pre-existing medical conditions prior to camp on the required forms so our trainers can assist your child as needed.
Refund Policy 
 After receipt of application, refund or cancellation will be given only if written notification is provided 7 or more days prior to the start of camp. The refund will be in full with the exception of a $75 processing fee, which is needed to cover costs. Additionally, players have the option to transfer the entire balance towards a future camp, if they prefer, provided written notification is received 7 or more days prior to the start of camp. If the refund is requested within 7 days of the camp the registration fee will be non-transferable or refundable. Without written request prior to the start of camp, no refunds will be processed. All camp credits are good for one year.
WRITTEN NOTIFICATION CAN BE SENT TO THE CAMP COORDINATOR, COACH AUSTIN KNIGHT, AT cliffgodwinbaseballcamp@gmail.com
Clark-LeClair Stadium on the Campus of East Carolina University
102 Clark-LeClair Stadium
Greenville, NC 27858, United States
2020 Cliff Godwin Youth Camp Session 1
Gender: CoEd | Ages: 6 - 13
June 22, 2020 - June 26, 2020 | Greenville, North Carolina
Mon, June 22, 2020 - Fri, June 26, 2020
102 Clark-LeClair Stadium
Greenville
,
North Carolina
27858